PROFILE REIYA
本名:高松麗也
年齢:21歳
階級:バンダム級(ISKAフライ級)
特技: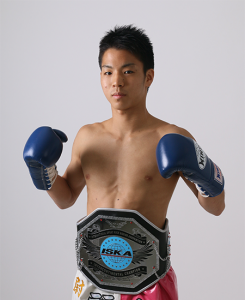 デビュー 2012月1月15日
戦績19戦14勝(5KO)1敗4分
海外10戦4勝(1KO)5敗1分
通算29戦18勝(6KO)6敗5分
<主なタイトル>
■第2代国際Jr.キックボクシングフェザー級王者
■第3代国際Jr.キックボクシングライト級王者
■第7代新日本キックボクシング協会フライ級王者
■ISKAインターコンチネンタルフライ級王者
■ISKAムエタイ世界フライ級6位
5歳の時に家の近くの道場で空手を始める。
13歳、中学2年生の時にBeWELLジムに入門
2つ歳上の先輩志朗選手に憧れプロ選手を目指す。
2011年10月、志朗選手の後を追い16歳で初めてのムエタイ修行を経験。
2012月1月、16歳の時に後楽園ホールでプロデビュー。
同年6月には本場タイで初めてのムエタイの試合に出場し判定負け。ムエタイの厳しさを知る。
2014年11月、ムエタイの聖地ルンピニースタジアムでの初試合は3RKO負け。
2015年5月、過去に対戦し負けている王者HIROYUKIに挑戦し新日本キックボクシング協会フライ級王座獲得。
2017年4月、初のヨーロッパ・イギリス遠征で結果は判定負け。
しかし現地の関係者から高い評価を受け、同年5月に後楽園ホールでISKAムエタイポルトガル王者ヘルダー・ヴィクターとのISKAインターコンチネンタルフライ級王座決定戦に挑戦し3RKO勝ちで王座獲得。
志朗後援会E-mail:shirou.jsk@gmail.com
---
Given Name: Name:Reiya Takamatsu
Affiliation: BeWELL Gym
Age: 21 Birthplace:Saitama Prefecture
Weight Class: Class Bantamweight
Skills:
Pro Debut: January 15,2012
■2nd International Jr.Kick Boxing feather weight champion
■3rd International Jr.Kick Boxing  light weight Champion
■7nd Shin Nihon Kick boxing fly weight Champion
■ISKA World Muay thai Fly weight ranking 6
■ISKA intercontinental Fly weight Champion (May 14,2017)
He began to learn karate at the age of five.
13 years old Reiya joined Bewell kick boxing Gym and he has been training kick boxing
Then Reiya longed for Shirou who two years older, aiming for a professional kick boxer.
Oct,2011 He went to get training Muay thai in Thailand
June,2012 Reiya had gotten muai thai fight game in Thailand but he lost also He was baptized for the first time in Thailand by a strict Muay Thai
Nov,2014 It was He joined Muay Thai fight game in  Lumpinee Boxing Stadium.but He got 3RKO.
May,2015 Reiya fought HIROYUKI who had lost in the past and became a
He fought Mr. A who had lost in the past and became a champion 7nd Shin Nihon Kick boxing fly weight Champion.
In April 2017, He went to UK and joined the first European-British expedition. But the result was lost by judged
However, He received high evaluation from the people concerned, in May of the same year I challenged the ISKA intercontinental flyweight championship game with ISKA Muay Thai Portuguese champion Herder Victor at Korakuen Hall and won 3 RKO and win the throne.